Product Summary
The TPS51124 is a dual, adaptive on-time D-CAP mode synchronous buck controller. The part enables system desingers to cost effectively complete the suit of notebook power bus regulators with the absolute lowest external component count and lowest standby consumption. The TPS51124 fixed frequency emulated adaptive on-tmie control supports seamless operation betweent PWM mode at heavy load condition and reduced frequency operation at light load for high efficiency down to miliampere range. The TPS51124 is suitable for Notebook I/O and Low Voltage System Bus.
Parametrics
TPS51124 absolute maximum ratings: (1)input voltage range, VBST1, VBST2: –0.3 to 36V; Input voltage VBST1, VBST2 (wrt LLx): –0.3 to 6 V; V5IN, V5FILT, EN1, EN2, VFB1, VFB2, TRIP1, TRIP2, VO1, VO2, TONSEL: –0.3 to 6V; (2)output voltage range, DRVH1, DRVH2: –1 to 36V; DRVH1, DRVH2 (wrt LLx): –0.3 to 6V; LL1, LL2: –2 to 30 V; PGOOD1, PGOOD2, DRVL1, DRVL2: –0.3 to 6V; PGND1, PGND2: –0.3 to 0.3V; (3)TA, Operating ambient temperature range: –40 to 85℃; (4)Tstg, Storage temperature range: –55 to 150℃; (5)TJ, Junction temperature range: –40 to 125℃.
Features
TPS51124 features: (1)High Efficiency, Low-Power Consumption, Shutdowns to <1 mA; (2)Fixed Frequency Emulated On-Time Control, Frequency Selectable From Three Options; (3)D-CAP Mode Enables Fast Transient Response; (4)Auto-Skip Mode; (5)Less Than 1% Initial Reference Accuracy; (6)Low Output Ripple; (7)Wide Input Voltage Range: 3 V to 28 V; (8)Output Voltage Range: 0.76 V to 5.5 V; (9)Low-Side RDS(ON) Loss-less Current Sensing; (10)Adaptive Gate Drivers With Integrated Boost Diode; (11)Internal 1.2-ms Voltage-Servo Soft Start; (12)Power-Good Signals for Each Channel With Delay Timer; (13)Output Discharge During Disable, Fault.
Diagrams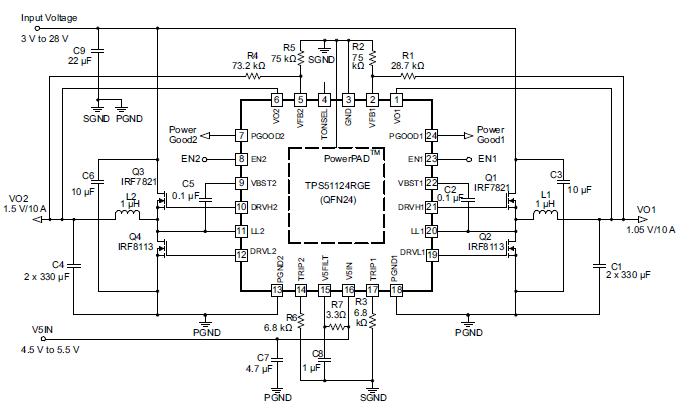 Image
Part No
Mfg
Description
Pricing
(USD)
Quantity

TPS51124RGETG4

Texas Instruments

DC/DC Switching Controllers Dual Sync Step Down for Lo-Vltg Sys Pwr

Data Sheet



| | |
| --- | --- |
| 0-180: | $1.81 |
| 180-250: | $1.70 |
| 250-500: | $1.67 |
| 500-1000: | $1.64 |


TPS51124RGET

Texas Instruments

DC/DC Switching Controllers Dual Sync Step Down for Lo-Vltg Sys Pwr

Data Sheet



| | |
| --- | --- |
| 0-1: | $2.89 |
| 1-25: | $2.12 |
| 25-100: | $1.81 |
| 100-250: | $1.70 |


TPS51124RGERG4

Texas Instruments

DC/DC Switching Controllers Dual Sync Step Down for Lo-Vltg Sys Pwr

Data Sheet



| | |
| --- | --- |
| 0-2355: | $1.42 |
| 2355-3000: | $1.39 |


TPS51124RGER

Texas Instruments

DC/DC Switching Controllers Dual Sync Step Down for Lo-Vltg Sys Pwr

Data Sheet



| | |
| --- | --- |
| 0-1: | $2.25 |
| 1-25: | $2.00 |
| 25-100: | $1.55 |
| 100-250: | $1.46 |


TPS51124EVM-001

Texas Instruments

Power Management IC Development Tools BUCK CONTROLLER

Data Sheet



TPS51124

Other



Data Sheet

Negotiable